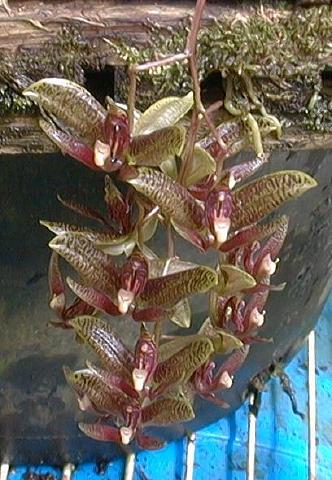 Type species: Cirrhaea dependens Loudon 1850
A fragrant Brazilian species with pendant inflorescences.
Photo by Dale and Deni Borders
.
.
The Genus Cirrhaea
Edited 18 December 2007
© Nina Rach

.
.
.
The genus Cirrhaea was established by Lindley's publication in the Botanical Register sub t. 930 (1825).
---
The species:

Cirrhaea adspersa Hoffm. ex. Heynh. Nom. ii. 145, nomen. Bras
Cirrhaea dependens Reichb. f. in Walp. Ann. vi. 496 = viridipurpurea
Cirrhaea dependens var. concolor Porsch
Cirrhaea dependens var. ornata Hoehne
Cirrhaea dependens var. tigrina Porsch




Cirrhaea fuscolutea Hook.
Cirrhaea fuscolutea Lindl.
Cirrhaea hoffmanseggii Heynh. ex Reichb. f.
Cirrhaea loddigesii Lindl.
Cirrhaea longiracemosa Hoehne
Cirrhaea nasuta Brade
Cirrhaea obtusata Lindl.
Cirrhaea pallida Lindl.
Cirrhaea saccata Lindl.
Cirrhaea seidelii Pabst
Cirrhaea silvana V.P. Castro Neto & M.A. Campacci
Cirrhaea tristis Lindl.
Cirrhaea violaceo-virens Hoffmgg.
Cirrhaea violascens Hoffmgg.
Cirrhaea viridi-purpurea Lodd.
Cirrhaea viridipurpurea Lindl.
Cirrhaea viridipurpurea var. frayana Knowles & Westc.
Cirrhaea viridipurpurea var. fryana Knowl. & Westc.
Cirrhaea warreana Lindl. ex Reichb. f.
Image above represents Cirrhaea viridipurpurea, but was published as Gongora Viridi-Purpurea, Plate 2978, in Curtis' Botanical Magazine, New Series, Volume 4 (1830).

---
Image at right depicts Cirrhaea dependens, Plate 96 from "The Forgotten Orchids of Alexandre Brun," edited by Phil Cribb.

From the Orchid Guide Digest (online):

Date: Mon, 1 Nov 1999 13:35:08 +0100
From: "Simon M. Wellinga" [S.M.Wellinga@symphyto.nl]
Subject: [OGD] [OGD V1 #108] Re: Culture of Cirrhaea species

Paul,

Cirrhaea saccata and congenerics can very well be grown together with Gongora species in a partially shaded intermediate to warm greenhouse. Summer temperatures may range from 26-32 °C (79-90 °F) days and 18-24 °C (64-75 °F) nights, winter temperatures from 18-22 °C (64-71°F) days and 14-16 °C (57-61°F) nights. As a function of lower temperatures, watering should be reduced during winter, without the pseudobulbs becoming wrinkled too much. The main peak of flowering occurs between March-June. Cirrhaea species do very well in a 3:1 mixture of a fine grade pine bark and sphagnum moss, but are definitely less vigorous growers than Gongora.

Hoping this helps,

Simon M. Wellinga / SymPhyto - Laboratory for in vitro plant propagation
Heerenveen, The Netherlands

E-mail: s.m.wellinga@symphyto.nl
/ orchid seedling list: info@symphyto.nl

---
Printed References:

Phil Cribb (1992) The Forgotten Orchids of Alexandre Brun. New York: Grove Press. 4to. 159 pp. 59 full page reproductions; drawings; pictorial endpapers.

William Jackson Hooker (1830) Curtis' Botanical Magazine, New Series, 4: t.2978. London. [as Gongora Viridi-Purpurea]

---
Online References:

International Plant Names Index [IPNI]

Dept. of Stanhopeinae: The Genus Cirrhaea, in: Oasis The Journal, v.1 ed.2

---
Comments? Send e-mail: stanhopea@ autrevie.com.